Reading Time:
2
minutes
That's right, we're going to be discussing keywords.
There are probably a few of you reading this who just rolled your eyes and said "Keywords? What is this, 2008?"
It's true that keywords may not be the sexiest marketing tactic to discuss lately. Everyone's focus seems to be on social media and how to optimize that.
But when you've got access to an effective marketing tool, you make the most of it.
And the good news is keywords are still massively relevant, especially if you're looking to maximize the impact of your online reviews.
Here's what we mean.
Let's say that you get 5 happy customers to leave you reviews. You're off to a good start, but there's definitely a way you could've turned this into a major victory for your business.
Instead of just having 5 positive reviews, if each of those reviews used a keyword that consumers in your industry, that would end up making an enormous difference.
Why? Because of the way local SEO works.
Consider for a moment the impact that online reviews have on your SERPs on sites like Google and Bing.
MOZ's Local Search Ranking Factors Survey actually found that online reviews seem to make u for 13% of the way that Google ranks search results.
The message is clear. If you want Google (and search engines like it) to acknowledge your business and connect you with more consumers, you'd better have a healthy, positive online review presence.
If you've ever been searching online for a local business, you've probably noticed that your description of your needs leads to a few review sites pop up.
These sites showcase reviews that match your description, leading consumers like you to a specific listing.
Doing a quick Google search for something like "hotels in la with jacuzzi" gives us these results.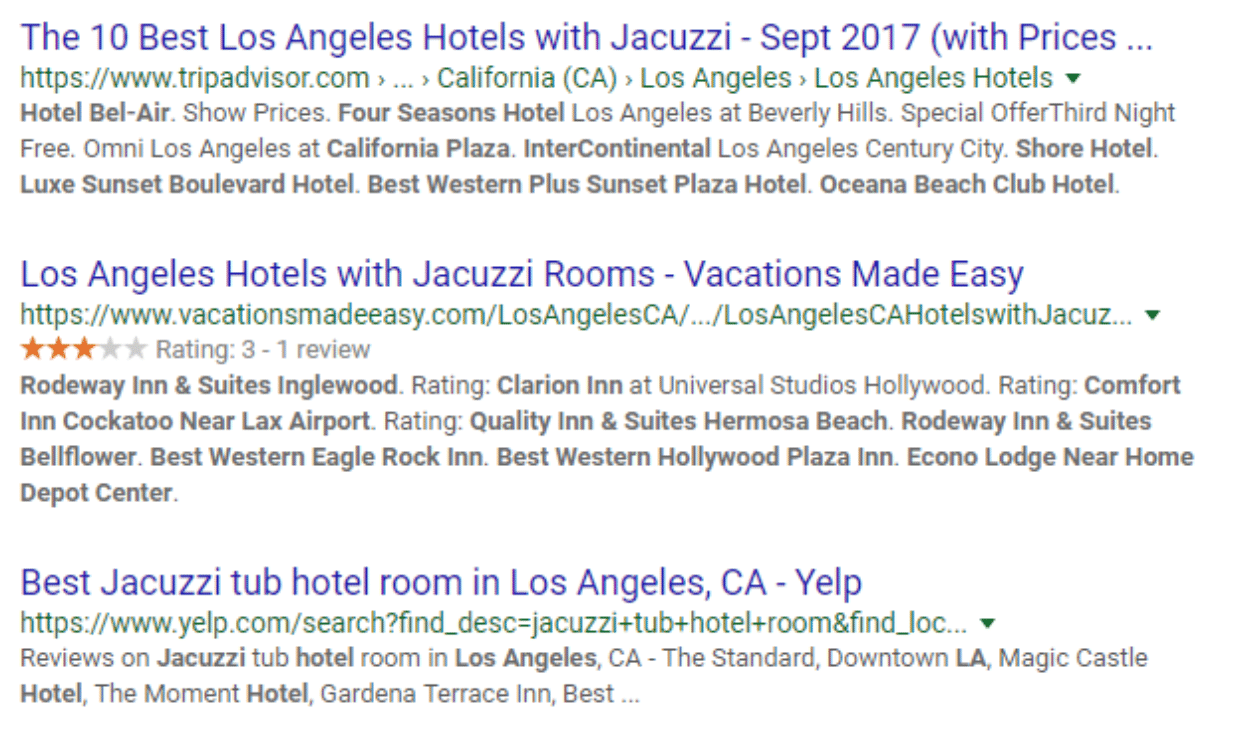 As you can see, Google clearly makes online reviews a priority, with Vacations Made Easy's page ranking higher than Yelp here because of the online review that Google picked up on.
With a strong enough online review presence, there's no reason you can't beat your competitors when it comes to targeted local SEO.
Of course, that still begs the question: what makes keywords so important here?
The reality of SERPs is that they rely on more than just who's got the most 5-star reviews.
Results on these pages need to be just as appropriate as they are reliable. If everyone in your online reviews has cited the great wifi your hotel has, and a consumer searches for "hotels in LA with great wifi", then you're likely the perfect fit for their needs.
That's what search engines like to see, and that's what will put you on the path to the first page of Google.
So clearly, your position on these local review sites is going to have an effect on how highly you rank on these SERPs.
The question then becomes: "what can I do to ensure that my business ranks well enough on these local review sites to show up on Google when consumers ask about a business that fits our description?"
Online review sites are more like Google than you realize
At this point, we've already acknowledged how online review sites and Google work together to provide consumers with the best, most relevant results.
That being said, it's also important to recognize that these online review sites function independently from those search engines.
In fact, the argument could be made that sites like TripAdvisor and Avvo (a review site for lawyers) actually work much more like search engines than we give them credit for.
Aside from the obvious parallel of both having a search bar, these review sites share the same goal that your typical search engine has. The more relevant and reliable a search result is, the more likely it is that it'll benefit the consumer.
And that's where the importance of keywords comes in.
When consumers are searching for answers on these online review sites, the more specific the result is, the more likely it is to pop up on the results page.
But it's not just enough to have a certain keyword show up in one or two reviews. These sites value frequency when it comes to keywords in online reviews.
To prove it, here's a quick search we did on TripAdvisor, with the keywords 'hotel in paris with a view'.

Our results speak for themselves, with the highest results on the page showing direct links to reviews that had the keywords 'hotels a view' in them.
At this point, the issue isn't whether or not keywords matter when it comes to your ranking on these online review sites.
It's how you can encourage happy customers to leave reviews with the right keywords in them.
Here we can see a recent review of the first search result, the Pullman Paris Tour Eiffel hotel.
If you pay attention to the review, you can see why the hotel marked it as their favorite. Aside from directly mentioning the view, both in their review and the title, the review gives a positive, detailed review of the customer's experience.
The exact phrase doesn't have to be used in order to register. The use of the word 'view' was enough to help cover the keyword bases.
For another example, take a look at the results you'd get for 'hotels good for kids' in Paris.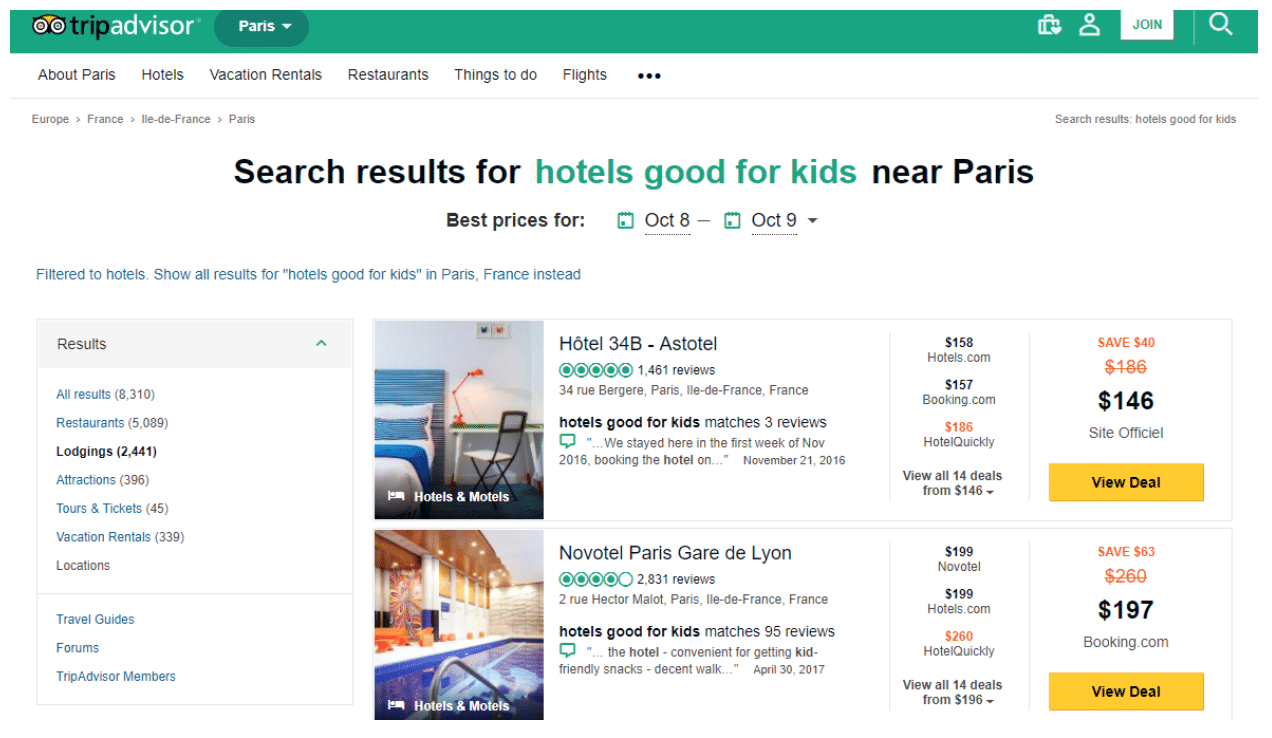 The second result, the Novotel Paris Gare de Lyon hotel has over 90 reviews that match the keywords searched above.
Taking a closer look at the reviews themselves, you can see why TripAdvisor (and other search engines) are likely to promote this hotel, considering the content of these reviews.
Tailoring Your Review Acquisition Strategy
There are likely two categories of people reading this article right now. The first has a review acquisition strategy and is looking for a way to strengthen it by getting the appropriate keywords listed in their online reviews.
The second category is made up of people who don't have a review acquisition strategy, but are starting to realize that they might need one if they want to make the most out of their local search marketing strategy.
For that second group of people, here's a quick overview. Don't worry, this won't take long.
There are a variety of steps that you'll need to take to create a fully developed review acquisition strategy, but here's what you'll need to do to get started.
Research your competition on search engines like Google and industry specific review sites like TripAdvisor.
Start training your staff to ask for reviews at the end of any satisfied customers' transaction.
These are the 3 steps that will be the foundation of your online review acquisition strategy. Everything from here on out will build off of these in some way, so make sure you do your homework.
Now that we've got that out of the way, let's address the issue of asking for keywords.
First off, obviously you shouldn't bother explaining to your customers why you need these specific keywords. Aside from being boring to the average person, it likely won't be a very compelling reason for them.
You can start with the subtle approach by sending out email requests to satisfied customers, using language that encourages customers to "describe the best part of their experience, especially when it comes to product XYZ".
This can take many other forms, like:
Having a restaurant that might encourage customers to comment on their specialty dish that everyone loves.
Having a smoothie store that asks customers to review their latest smoothie online, to decide whether they keep it or not.
Having a hotel with a particular gimmick (near the Eiffel Tower, rooftop infinity pool, etc.) ask for feedback on said gimmick.
If that doesn't work, learn to start opening up your customers with leading questions. If you can get someone to leave a review for you all on their own, that's great. But more often than not, you're going to need to encourage them.
Ask questions that use phrases like:
What can we do to improve XYZ?
What was your favorite part of XYZ?
Is there anything you'd change about this part of your experience?
What can we do better?
Something as simple and subtle as "was our new ice cream flavor too chocolate-y or not chocolate-y enough?" can help get those wheels turning in people's minds.
There are plenty of ways that you can encourage customers to use the right keywords in your reviews. What's important is that you find a method that works and stick to it. Keywords don't just matter for SERPs anymore.
Keywords boost your ranking on review sites
Keywords ensure that your businesses is putting a spotlight on the aspect you want highlighted
Make sure that those happy customers are giving your business the best type of online review anyone could ask for. These days, if you want to stay ahead of the competition, you're going to need to take advantage of the way online review sites work in order to maximize your traffic.