Reading Time:
8
minutes
Who is Google My Business For?
---
Google My Business is the primary business listing service of Google, and has undergone various changes over the past couple of years. In order to be eligible, companies need to either have a physical location or have direct face-face interactions with their customers.
Google provides some additional specific guidance for Chains and Brands, Departments within other businesses, Universities and Institutions, and Individual Practitioners.
Joy Hawkins, Google My Business Top Contributor, put together a nice 'best practices' guide specifically for Individual Practitioners.
Your GMB page allows you to control how your business is presented in Google search results, maintain up to date useful information about the company, showcase photos, and respond to reviews. Investing a little tender love and care into your listing can attract new customers the next time they're searching on Google.
---
2. Enter your business name, address, phone number, and category.
---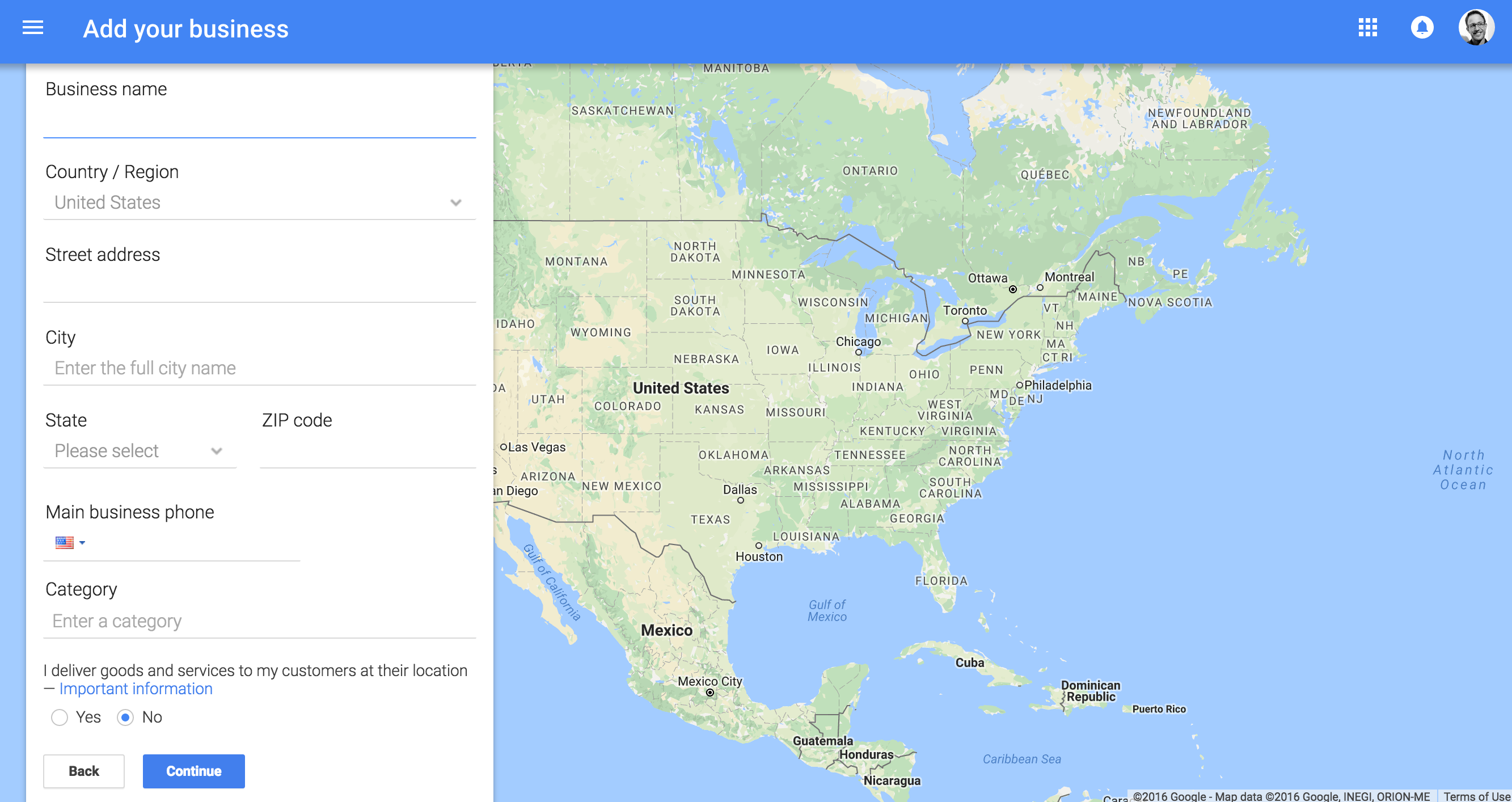 ---
3. Begin the Verification process.
---
---
Pro Tip:
Earlier this summer, we would have only been able to verify our GMB listings via a snail mail postcard or phone call. As of July, 2016, Google has started to include email verification, simplifying the process for business owners.
---
Get the Basics Right
---
Claiming and verifying your GMB listing is the very first step, because some people don't even do that. Since Google wants to make sure that users find what they're looking for, it's essential that GMB listing is accurate with up to date information.
So what information is required for an optimized GMB page?
NAP (Name, Address, Phone Number)
---
Something as simple as the business name can really trip people up. Some companies try to 'game' the system by including a city name or a keyword, when it's not actually in the name of the business. That's a no no, and can get your GMB listing censored for spam.
So what's the best practice for entering your business name?
Straight from the horse's mouth:
Use a local phone number instead of central, call center helpline number whenever possible.
Do not provide phone numbers or URLs that redirect or "refer" users to landing pages or phone numbers other than those of the actual business, including pages created on social media sites.
Your business name, address and phone number are the most important parts. Make sure to get them right. Double check them. Then check again.
Categories
---
Choose specific categories that are relevant to your business. We have a much better chance to rank for something specific like "organic juice bar" or "break and muffler repair" than more generic terms like "smoothies" or "auto repair".
Google recommends only selecting one or two categories, but there hasn't been much data collected on the actual results of using two versus five categories. The important aspect of categories is that they are specific and relevant.
Website URL
---
Boost your own site's SEO.
A link to direct traffic to your website.
Pro Tip:
Make sure your website is mobile friendly. Mobile searches, especially for local businesses, are becoming more and more prominent. Using a non-mobile friendly website on your phone is an incredibly frustrating experience for users. Don't leave a bad taste in their mouth by directing them to website burdened with a clunky mobile experience.

Photography
---
Photos of your business were once just a nice aesthetic addition to your listing that might help you stand out, but they do in fact impact search rankings.
According to Google, "Businesses with photos receive 42% more requests for driving directions to their location from users on Google, and 35% more clicks through to their websites than businesses that don't have photos."
There are a variety of types of photographs worth uploading:
Preferred photo – Recommend the photo that you want your customers to see alongside your business name on Google Maps and Search. Google determines which photo will be shown first using a number of factors, like how well the photo represents the services or products the business offers. Pictures of food at a restaurant, for example, tend to rate well. Although your first photo preference is taken into account, there's no guarantee that your preferred photo will be the first photo on Google.
Profile photo – Add a profile photo to help your customers recognize your business on Google. Your profile photo will be featured next to your business name on your Google+ page. It should be a different photo from your business logo, which should be added in the "Logo" section.
Logo – Add your logo to help customers identify your business. Square-sized logos display best on Google.
Cover photo – Add a cover photo to showcase your page's personality. Your cover photo is the large photo featured at the top of your Google+ page. Note that this photo will be cropped to fit a 16:9 aspect ratio.
Additional photos – Add different kinds of photos to spotlight features of your business that customers consider when making purchasing decisions. You can add different kinds of photos depending on the kind of business you manage.
Their recommended best practice for photos:
Format: JPG or PNG
Size: Between 10KB and 5MB
Minimum resolution: 720px tall, 720px wide
Quality: The photo should be in focus and well lit, and have no photoshop alterations or excessive use of filters. The image should represent reality.
Still at a loss for the types of photos worth adding to your listing? Google provides a handy chart for guidance:
Business Hours
---
Make sure to update your business hours regularly. Since the majority of searches are for a local business, they need to know if your company is open! That's one of those 'micro-moments' that Google recommends you're prepared for.
Don't forget to include holiday hours!
Remember a complete and detailed listing will increase click through rates. The more you include the better. Customers are looking for information.
Advanced Tips
---
Beyond the basics, here are a few more things you can do to fully optimize your GMB listing.
Get a better understanding for how Google Search works for local business.
Try entering different local search terms to see how the results look, and where you rank:
[Your business name]
[Your business category]
[Your business name] + [city]
[Your business category] + [city]
[Your business category] + "near me" (or other synonyms)
Research your local competitor's listings and study why some might be ranking higher than others.
Encourage customers to leave positive reviews on your GMB listing. One of the most prominent GMB features that shows up in search (and maps) is your star rating. Having a high rating will greatly increase click through rates. Reviews are extremely important for any local business.
Also encourage customers to check in at your location and to upload their own photos of your business. Google loves it when customers engage with your GMB listing and will reward that engagement with better search rankings.
One last tip, and an entirely different can of worms, is to use paid social ads or Google Ads to bring more customer to your business.
For more robust features for more comprehensive advertising campaigns – Try Google Ads
For more tips and tricks to improve your GMB Listing check out these articles:
Using Google My Business Will Help You Get More Leads and Sales
---
Think about it. It's almost free advertising. Why not get started? The better your listing the more return on investment you'll receive. Google search plays a huge part in local business. Give it a good shot. Nail the basics, and focus on your customers. That's really the biggest thing. Who are you trying to attract? Build a profile that they will like. Create exposure for your business and grow your customer reviews.