Reading Time:
6
minutes
Businesses in the hospitality industry live and die by two things.
1. Their ability to get great reviews.
2. Their ability to get found on major travel sites where customers are going to look at their options.
This matters to a hotel even more than ranking in Google does, as most customers use one or more of these sites to make their decision. (Which makes it that much more difficult to track attribution and ROI!)
Of course, some customers will continue to search Google directly, which means it's important to have a strong Google My Business Page, as well.
Here's what you need to know about building a great profile on each of these sites.
General advice for any hospitality specific review site
Every profile must be an attractive selling tool, not just a convenient place to collect reviews. You must assume each profile you build is the first and last thing your customer will see about your hotel.
Yet there must be a seamless transition between each profile and your website as well.
While many guests will want to book rooms on their favorite travel sites to take advantage of discounts (or perceived discounts), most will at least check out your website first.
This is especially the case for boutique hotels and non-chain businesses.
After all, a hotel website is a good source of information which typically can't make it into the typical review site listing. A place to find a fuller description of amenities, local attractions, and your dining room menus.
Making sure each touchpoint of customer interaction is a beautiful (aesthetics matter), branded experience which helps to mentally transport the customer into one of your guest rooms is paramount.
Photos, photos, photos! (Did I mention photos?)
Use complimentary photos on both the profile and the site.
Make sure your logos and colors match.
The tone of the language in your profile descriptions needs to set the same stage as your web copy.
Use photos to build anticipation for the experience you're trying to deliver.
If you've won any awards, like the TripAdvisor Travellers Choice Award, display that information somewhere on your site!
Notice how Lookout Point uses complimentary photos, but not the exact same photo. Yet both are of a beautiful room with the same color schemes and examples of some of the views guests will experience while they stay at this hotel.
This is it, the King Daddy of review sites for the hospitality industry. Win here and you're going to win, period.
Get crazy with the photos...really!
TripAdvisor is going to pull photos from three sources: you, travelers, and professional travel photographers.
In this industry, visuals are everything. The more you add, the more you'll entice the customer. TripAdvisor has a nearly unlimited capacity to accept photos. Upload images to reflect the various categories TripAdvisor provides. Customers look for each of these photo types to evaluate your property.
TripAdvisor: where 48 photos...or more...is a smart number of photos to have.
Anything which makes your hotel special should get a snapshot. If your rooms all look a little different, snap a shot of every single one of them, you never know which one will trigger a guest to book a room.
In other words, go absolutely nuts about showing off every nook and cranny of your hotel you can imagine. Nobody has ever said, "that hotel doesn't have enough photos of their property."
For help creating attractive photos, check out these two articles:
It's all about the "About" section.
TripAdvisor gives you the opportunity to share a lot of information about your hotel. You want to take advantage of every last opportunity. Compare these two profiles below.
The profile on the top tells you everything you'd need to know about staying in this hotel. The second offers scant information, and doesn't even have a description written.
Don't you come away with a ton of questions about the second hotel?
You might notice the second profile is for a budget hotel, versus the luxury hotel which has taken advantage of all the available "About" fields up top.
This is purposeful.
One might deduce the second hotel believes it doesn't have much to offer, so has missed an opportunity to sell itself.
But this will hurt the second hotel's ability to rank in TripAdvisor, and it's a missed opportunity to help customers make a decision in its favor. Even the description field is blank, but they could have written one.
It might have looked something like this:
Save your money to enjoy all the sights, sounds, and attractions of Hot Springs! When you're going to be spending all day on Bath Springs Row, at Pirate's Cove, or Hot Springs Mountain the last thing you want to do is blow all your money on a hotel room. Finish your full day in one of our clean, comfortable, affordable beds while enjoying free WiFi, free parking, and a crisp, cold AC that will help you beat the Arkansas heat. Puppy or kitty part of your family? You're welcome to bring them with you, because here at the Happy Hollow we're pet lovers too.
In my description, I showcased all the features this budget hotel has to offer:
How spending less on the hotel allows guests to spend money on their experiences instead, by highlighting the attractions nearby.
I emphasized, budget or not, this hotel has the essential amenities that matter to any traveler.
I made sure to emphasize the hotel is pet-friendly. If you're traveling with pets and need affordable lodging, this hotel is perfect!
Your hotel has strengths, even if it's not a 5-star resort. Talk them up!
Many people who visit your location don't want to shell out for luxury amenities and are just looking for a friendly, affordable place to lay their head at night because the hotel isn't their primary destination anyway. If that's what you sell, then sell it!
Put the Q&A to work for you
TripAdvisor offers another extremely useful feature: the ability to answer customer questions right on the site. While other guests may answer these questions for you, it's best if you, as the property representative, get in there to answer.
You want to be the one to make the response as often as possible.
Nobody knows your property better than you do.
Well-meaning travelers may leave inaccurate information.
Malicious travelers may leave information which makes your hotel less appealing.
Answering paints a picture of the service ethic at your hotel, something you don't really have an opportunity to showcase online very often.
Bonus: Q&As give you the opportunity to provide a lot of additional details guests care about which would not necessarily fit into the About field. Keep an eye on them and turn them to your advantage.
While Google isn't the king of the travel industry pack (as it is, to be fair, the king of just about every other industry) it's still massively important. So don't neglect it! Give your Google Profile as much attention as you would give your TripAdvisor profile.
Take advantage of Google Hotel Ads
Google has a newer special program which allows hotels to place ads right in your listing, which means you can showcase individual rooms, packages, specials, or anything you want.
You can view a video on the basics of how these ads work here:
Each of these ads offers a striking new visual to your Maps profile, and customers can book directly from Google, or from just about any travel site as Google provides links to all of them.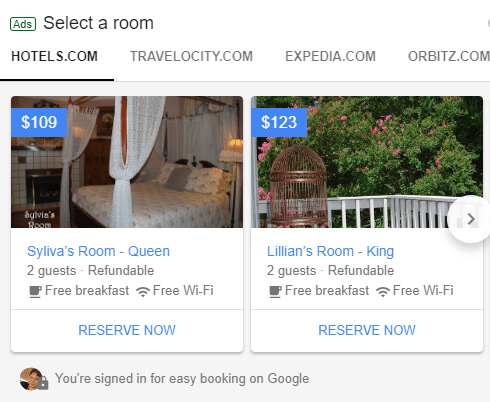 It literally makes no sense not to use this feature. Sure, it's not free like most profile features are, but it could get you a lot of business.
Make your description sing
Like TripAdvisor, Google My Business also gives you the opportunity to write a paragraph or two to describe your hotel. A lot of hotels waste the opportunity by listing off a bunch of features.
Hotels that know what they're doing paint an enticing picture, knowing this may be it; their one and only shot at getting that guest to make a reservation.
This description is a nice one.
It paints a beautiful picture full of concrete details which tell you a great deal about the experience you can have here.
The writers took advantage of the ability to space paragraphs on a Maps listing, because a lot of establishments just use a solid block of text that's really hard to read.
The writers used vivid, descriptive language like "stately," "traditional," and "refined," evoking mood and atmosphere.
They included the fact that they are within walking distance of the area's most popular attractions: an amenity in its own right.
Google displays your star rating, the number of reviews, and snippets from some reviews from other top travel sites on your profile.
While you don't have control which reviews are displayed on your hotel's Google knowledge panel, this feature highlights the value of a diverse review portfolio across many industry specific review sites.
Google displays these boxes for Expedia.com, Hotels.com, TripAdvisor, and Orbitz.com.
Gathering reviews on all these sites will help your Google profile as well.
Expedia, Hotels.com and Orbitz are be good places to focus secondary review-generation efforts as a result.
Your hotel's Facebook page is another area worthy of mention. Done correctly, Facebook can become more than a place to collect reviews. It can become one of your strongest selling tools.
When you build your page you will of course want to follow these basic tips:
Choose a gorgeous cover photo.
Fill out all the details in the About section.
Invite your entire friends list to "Like" the page to get a head start on followers.
Use "services" to add information about room rates, any packages you offer (with prices), and event bookings.
But to really take advantage of Facebook you need to use the following three advanced tips.
Take advantage of custom tabs
This Facebook page has become a central "launch point" for every web property this hotel manages.
Notice how this hotel used the "Custom Tabs" feature to link customers to all the other places they can be found on the web, including other review sites.
Because when you've got the kudos, you don't want to let them go to waste.
They also gave guests the ability to sign up for their email list right from their Facebook page.
Why miss an opportunity to market directly to a guest's inbox?
You can get a little bit creative here. For example you can also add:
A tab for all the local attractions, with photos.
A tab for local events.
A "what's new" tab where you can post some news.
Post shareable stuff on the regular
Hotels have an advantage on Facebook few other business types have. Hotels are about fun. Even fantasy. Which means a great deal of what they post gets shared, even by people who don't have the time or money to take advantage of them.
When you've got the ability to go viral and to gather followers like spring gardens gather weeds, you take advantage of that!
You don't need a zillion shares per post to start gathering followers fast.
Photos of great food you're serving in your restaurant.
If you create new rooms, cabins, etc., photos of those.
Any news coverage about your hotel.
Any news coverage about how great your local area is to vacation in.
Information on local attractions.
Information on local events.
Any post that helps guests daydream about vacationing at your hotel in your neck of the woods will help. To make the most of this feature, post something new every day.
Make it someone's responsibility to keep an eye on Messenger
Ideally, this will be someone who is getting the alerts and responding to them right away. Take it as seriously as you take phone calls and emails. People will ask about:
Booking rooms
Making reservations
Room prices
Nearby amenities
Specials and deals
And just about anything else they might ask you over the phone
Messenger is where you really get your opportunity to sell your space, so don't overlook it.
Full Listing of Other Sites
Every traveller has their favorite site, and it won't always be TripAdvisor. Obviously you want to put your best foot forward everywhere travelers might look. Here's a listing of all the other hospitality directories which might be relevant to your business.
Obviously you want to pick and choose: Don't list on BringFido.com if you're not pet friendly, and don't post on Hostels.com if you're a 5-star resort hotel. Otherwise, catch all the listings you can and take advantage of every feature they offer. You never know where your next guest may come from.