Reading Time:
16
minutes
Yelp reviews are a necessary evil. Business owners depend on positive reviews to drive business, but find themselves frustrated by the review ecosystem that Yelp has developed over the past decade. 
Businesses are not explicitly allowed to ask for reviews. Some seemingly legitimate Yelp reviews get filtered and buried. Yelp's advertising sales reps are notoriously aggressive.
Does all this headache mean that you can avoid Yelp reviews altogether if you're running a local business?
As you'll soon see, Yelp is a viable and necessary review site that you should use to grow your business year-over-year. Managed well, Yelp reviews can become a powerful weapon in your marketing arsenal.
Get the Reputation You Deserve with Grade.us
Get notifications for new Yelp reviews so you can quickly respond. Automatically share your best reviews on your website and social media.
Why is Yelp important to your business?
If you used the search query "Yelp is," what kind of search results do you think you'd see? Here's a list of the top suggestions from Google's autocomplete.
Yikes.
The root cause of this dislike is the perception that reviewers on Yelp are divas who are eager to post negative reviews about innocent businesses. The idea that companies will be consistently blindsided with negative reviews and hostility. 
Is this true overall? 
The data says no. Yelpers write more positive reviews than negative reviews. Research shows the star rating distribution is heavily slanted towards positive reviews.
Does this mean reviewers will always offer fair and balanced feedback?
Nope.
But these trends do show that reviewers are rooting for you. If they've decided to work with your business, they're hoping for the best. The vast majority of reviewers are hoping they'll be the one to find an amazing business (yours) they can recommend to all of their family and friends.
Their reviews have a significant impact on your business.
This is great and all, but do consumers still rely on Yelp reviews?
The data shows Yelp is still a dominant force with customers today. If you'd like to build a strong reputation online, Yelp isn't optional; it's essential.
Ravi Parikh, CEO of
RoverPass
, elaborates:
"While I have mixed feelings about Yelp, if you have a Yelp presence, you cannot deny it has power in the customer's mind. For me, paying attention to negative feedback is just as important as the positive reviews. We all love positive reviews, but in addressing negative reviews, you can help to recapture the narrative as a business that is caring and responsive to customer's needs and satisfaction."
How consumers read Yelp reviews
In his paper, What makes an online review trustworthy, Dr. Raffaele Filieri outlines the heuristics consumers use to evaluate online reviews and their trustworthiness.
Here's what he found. 
Consumers rely on a mix of cues to evaluate an online review's trustworthiness (or lack thereof).
1. Review content and style
This is the most important cue that consumers use to evaluate review trustworthiness. They use sub-criteria — the length of the review, the type or specificity of information shared, and the details listed. 
This generally means longer reviews are well received so long as they contain factual, detailed, and relevant information. The content must speak to a product or service experience and is free from emotional and subjective comments. Low detail reviews with adjectives like best, awesome, horrible, etc., are viewed as untrustworthy if the review lacks detailed and relevant information.
Detailed content, especially when combined with photos, video, makes reviews more persuasive.
2. Review valence and extremity
The next criteria consumers look for is balance. Consumers typically don't want to seem overly positive or overly negative reviews as this communicates bias and possibly manipulation.
Consumers are also aware that some of these extreme reviews may be legitimate, so they scrutinize the reviewer's reason for satisfaction or dissatisfaction. Emotional content (overly positive or negative) is typically viewed as untrustworthy, while moderate content is considered to be trustworthy. 
If a review is viewed as suspicious (e.g., overly positive or negative) or presents an extreme point of view, consumers will analyze the reviewer's profile to gauge that reviewer's trustworthiness.
Consumers will look for various red flags — new accounts with a single, glowing review, profile picture (e.g., real photo vs. default image), and account activity. Consumers discount reviews from reviewers with a sketchy profile.
4. Review pattern criteria
Next, consumers will look for trends and patterns. The more expensive and involved the product or service is, the more reviews they'll evaluate. Consumers look for a wide variety of patterns — the same objections showing up repeatedly, glowing reviews from one-time reviewers, or consensus and consistency among reviewers (which indicates trustworthiness).
Consumers also use similarity between reviews as a way to suss out companies with fake reviews. They look for reviews with similar titles, the same content structure, wording, phrases, and even idioms.
5. The reviewer's involvement
When consumers look at reviews, they've made a rationalization. The more involved a reviewer is during the purchase process, the more effort it takes to purchase a product, the more effort they put into writing their review. 
If you invested a lot of time searching for a Realtor, for example, you're probably going to put more effort into evaluating your Realtor's performance.
Experienced users are defined as reviewers who are highly experienced with the use and writing of reviews. Research shows experienced users on review platforms like Yelp, Google, or TripAdvisor are better at spotting fake or untrustworthy reviews than average users.
If you invested a lot of time searching for a Realtor, for example, you're probably going to put more effort into evaluating your Realtor's performance.
These criteria may be obvious to some of you, but it's still worth pointing out here. When it comes to reviews, there are three types of mediums — first-party reviews (e.g., corporate websites), independent review websites, and third-party review websites (e.g., Yelp, Google, TripAdvisor). 
First-party reviews are typically overly positive or overly negative. They're helpful, but consumers often discount them; corporate bias generally is pretty clear. On the other hand, consumers view third-party reviews as more objective; third-party sites aren't interested in selling products for local businesses. 
Here's a diagram of Filieri's framework.
These details are fairly simple, right?
If your Yelp reviews are legitimate, it's not too hard to meet these criteria. If we're going to boost our performance on Yelp, we'll need a clear understanding of reviews on their platform.
What does a Yelp review look like?
Let's take a closer look at the anatomy of a Yelp review.
Profile photo.

Consumers view profile photos as an indicator of trustworthiness. These photos show consumers that the reviewer is indeed a real person.

Name and badge.

Reviewers provide consumers with a real first name and last initial. If you're part of Yelp's elite squad, you're an experienced reviewer. This experience carries more weight with consumers and lurkers.

Location.

This tells you where the reviewer is from, which may differ from the local business being reviewed. This is a helpful cue that also tells you more about the segments of your audience that are most active.

Friends, reviews, and photos.

Another measure of trustworthiness. These cues provide consumers with quick and easy criteria they can use to evaluate the reviewer's trustworthiness. The higher the number, the more involved and engaged these reviewers are.

Star rating and date.

The star rating and date given for a specific service visit.

Review content.

Consumers expect reviewers to share factual, detailed, and relevant information in their review content. This criterion is the most important by far, determining how consumers will evaluate the reviewer and your business.

Review specific photos.

These photos function as an extension of review content, validating, and supporting the data shared by reviewers.

Reader reactions.

These reactions are subtle cues that communicate consumer engagement. They're subtle ways to measure the reach and impact of the specific review.

Share and embed.

Easy options consumers and businesses can use to share or embed specific reviews.
 Yelp reviews appear to be simple, yet a lot is going on behind the scenes.
Here's what's interesting.
When we look at a Yelp review's anatomy, we find these features correspond with the consumer evaluation criteria I've shared above. Yelp's UI is designed to deliver information to consumers in an easy-to-digest format. Consumers can get the specific details they need from each review.
How do you get Yelp reviews?
You don't get them by asking, that's for sure. 
Yelp's official policy states that businesses are not allowed to ask customers for reviews. They say that their software is designed to highlight reviews from people who are spontaneously inspired to share their experiences with the Yelp community.
The rationale makes sense, but it's a bit bizarre.
Their algorithm actively seeks out reviews that were requested, prompted or encouraged by businesses. These reviews are flagged and buried.
They can't catch you if you don't get caught, right? 
Wrong.
Businesses that are caught violating their terms of use face steep consequences, including:
Okay, you're not allowed to request reviews. How you get more reviews on Yelp?
Claim your business on Yelp

Optimize your Yelp profile

Requesting a "Find us on Yelp" sticker (you can request one

here

)

Earn

a "People Love Us on Yelp" window cling for your business

Post "Find us on Yelp" sign in your business

Encourage more visits by hosting regular Yelp events. Head over to

yelp.com/events

, choose your city, then click the red "Create an Event" button. Add your event details, and you're all set!

Create

Yelp deals

and gift certificates for your business page

Share, embed and print out positive (and a few negative) reviews. Display them in your email newsletter, in your business, and a checkout

Create and print off a Yelp QR code for customers to scan

Post a Yelp review badge on your website or emails

Add a link to your Yelp profile in your email signature

Share your positive reviews on social media (e.g., images with links on Facebook, Twitter, etc.)

Share positive reviews and customer success stories in your online and offline marketing materials (e.g., direct mail, ads, landing pages, etc.)

Ask customers to find your business on Yelp

Add positive reviews to your fulfillment materials, packaging, receipts, notes, etc.
Just because you can't solicit Yelp reviews doesn't mean you can't raise awareness. Letting customers know you exist on Yelp isn't a violation of Yelp's review policy. Just make sure you're above board and clear with your messaging.
Why are some Yelp reviews filtered?
Yelp's software tools evaluate every review automatically. The Yelp review filter ensures that reviews are unbiased, organic, and customer-driven.
All of the visible reviews on a business Yelp profile are considered 'Recommended:'
However, if the review seems suspect in some way determined by Yelp, it will be suppressed to the "Not Recommended" section.
Yelp views requests as artificial and unnatural. This means Yelp is likely to flag and filter reviews if:
Yelp also filters reviews if they're:
This can be discouraging.
It's especially discouraging if you've received spontaneous and legitimate reviews from real customers who are happy with your product or service.
How do you recover filtered "Not Recommended" reviews?
Yelp's software is automated, so you'll notice that reviews may come and go. As Yelp learns more about the Reviewer, their reviews may be removed from "Not Recommended." You'll find that the order of reviews or the reviews themselves may change as Yelp learns more about each individual reviewer. 
It's not something you have a lot of control over.
This is why it's so important to avoid requesting reviews. Seeding customers with awareness is ideal because it allows your clients to meet Yelp's criteria independently. This increases the odds that customer reviews will avoid Yelp's "Not Recommended" filter.
How does Yelp handle Fake reviews?
Yelp removes approximately 25% of its reviews. A closer look at Yelp's review policy shows they take a more aggressive approach. Their tactics grow in severity over time and include:
Yelp encourages users to report inappropriate activity on their platform. If a review violates their terms of service, users are encouraged to share their evidence with Yelp's support team.
Why you should respond to Yelp reviews
Customers expect a response.
Jay Baer teamed up with Edison Research for his book Hug Your Haters and found that 53% of customers expect a reply on review sites. Brands that reply experience a 16 percent customer advocacy boost by responding to complaints. Brands that ignore negative reviews see a 37% decline in customer advocacy.
But there's more to it than that.
Responding to reviews boosts your performance in Google's local search results. 
"When you reply to reviews, it shows that you value your customers and their feedback. High-quality, positive reviews from your customers can improve your business visibility and increase the likelihood that a shopper will visit your location."  
What about the financial impact of responding to reviews?
How should you respond to Yelp reviews?
So how do you respond to reviews on Yelp?
Dr. Kerry T. Manis et al. shared five principles for responding to reviews on Yelp. 
Use short, generic responses to respond to positive reviews.

A brief "thank you" lacks impact, but a custom response may be viewed as promotional and disingenuous. A generic reply creates an effect but reduces the potential for harm.  

Delay responses for positive reviews.

Manis recommended that brands wait until the positive review reaches the second page before responding. They receive the relationship benefits that come with saying thank you while minimizing the harm that comes from a poorly received response.

Respond to every negative review.

Managers are encouraged to treat negative reviews as a complaint management strategy that prevents future negative reviews.

Create tailor-made responses for negative reviews.

Make sure your response to negative reviews are customer and circumstance specific. This shows customers that you care about them and their concerns.

Respond quickly to all negative reviews.

The faster your response to a negative review, the less damage is done.
You'll always want to take the high ground when you respond to your customers. Here are a few examples to show you what I mean. 
Example #1:
First a negative review from the Four Seasons hotel in Las Vegas: 
As far as reviews go, this one stings. They've wrapped their message in abusive language. What's worse, this reviewer has given staff members very little to work with. It's a disaster in the making – until you see how Kim handles it. 
"Thank you for taking the time to write a review. As indicated in our private message to you, our hotel manager would like to speak with you directly to address your concerns. Please contact her at your convenience. She welcomes the opportunity to connect with you and looks forward to hearing from you." 
This is the right response, you meet inappropriate behavior with ethical and honorable behavior. 
Why is this important? 
Yelp is transparent. This means they'll preserve each of the reviews written by customers, whether they're good, bad or ugly. You'll want to ensure you maximize the goodwill you receive from each of these. 
Example #2: Celebrating a happy hotel guest
What about positive reviews? Here's an example from the Waldorf Astoria hotel in Las Vegas.
This customer is exceptionally happy with the level of service she received. She's a Las Vegas local and she was looking to avoid the Las Vegas strip. Definitely not a common approach. 
Here's how staff responded to her review: 
"Thank you for taking the time to write a review. We are thrilled to hear that you chose to spend your staycation at the Waldorf Astoria and we are pleased that we were able to exceed your expectations. We look forward to your next visit!"
Example #3: Responding to unhappy hotel guests
Let's take a look at Hotel Giraffe.
Madison, a recent customer, is really unhappy about an unpleasant experience with someone at the front desk. If her story is accurate, it's horrendous.
Peter, the business manager, handled this beautifully.
The hotel has a specific policy regarding their clubroom. It's there for customers. This scenario indicates that they may want to change things in their policy so future guests have a clear idea of their rules and procedures. Peter affirmed Madison's feelings and experience, explained their reasoning, and reiterated their policy.
There are definitely things they could have done to improve their customer's experience, but it was a great start.
Example #4: Responding to happy HVAC customers
Brandon is pleased with the service he received during the pandemic. He called Pacific Coast HVAC to repair outlines so they could continue to work remotely.
This is significant because it's common for happy customers to be ignored. She acknowledges Brandon, using a generic response (as I mentioned above). She reminds the customer that their team is essential, and she thanks Brandon for his feedback.
This is a wonderful response.
Example #5: Poor responses to a home services customer
According to Phillip, the owner of this business, Mark is not a legitimate customer. Depending on his approach, Phillip could have pointed this out to benefit incoming readers and left it at that.
He decided instead to attack.
He attacked the reviewer's character, speculated on who their fictitious "customer" could be, and referenced the BBB as a credibility point.
Not good.
I get that he was angry, but he allowed this customer to get the better of him, dragging him down in the mud as well.
Example #6: Responding to Happy salon customers
Beth took care of Lopa, her customer.
She solved her immediate problem (cutting and styling her hair), but she also took care of her emotional needs, validating and accepting Lopa as a new mom.
This is beautiful.
Lopa feels the love and acceptance, stating that Beth is her go-to stylist. Even better, Beth acknowledges this with a concise but warm message and a thank you.
Very well done.
Example #7: Happy customer at a phone repair shop
Sheryl left Repair Bar an amazing review. She outlines her problem, explains the difficulties she had with her phone in detail, and the steps Repair Bar took to solve her problem.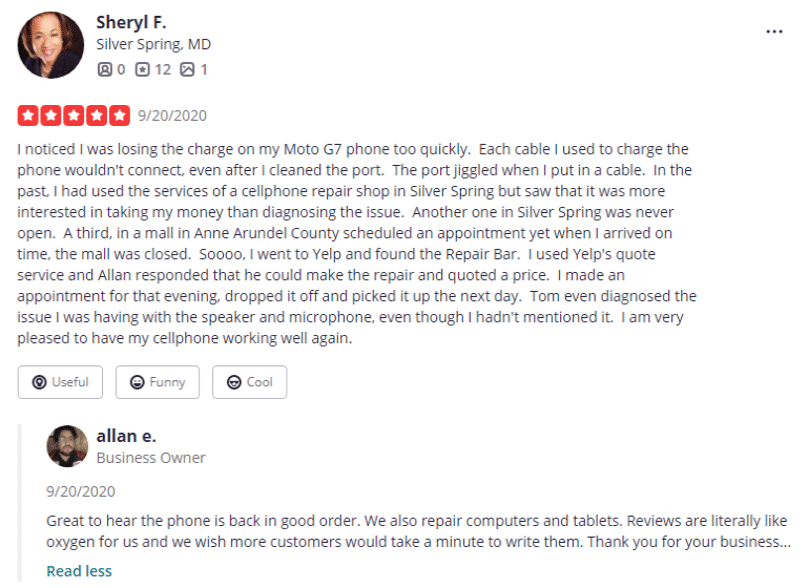 Here's the problem.
Allan, the owner, responded with a review that misses the mark a bit. The majority of his response is self-serving and leaves a bit of a sour taste. He plugs his additional services and then complains that he'd like more customers to leave reviews.
This strikes the wrong tone.
Gratitude and joy on behalf of your customers is the appropriate response here. Make your response a celebration that's all about the customer; that you're happy they're happy, that you're excited for their success, etc.
Focus on your customers.
Example #8: Unhappy customer at an auto repair shop
Darien had squeaky brakes.
He had a specific solution in mind, and he wanted Randy, the owner of Love Field Auto, to fix the problem his way. Only his way created major liability concerns and potential safety issues.
Randy apologized, explained his reasoning, then apologized again for Darien's experience with his shop. He owned the problem, and he made it about his customer's safety. Future customers are more likely to arrive with reasonable expectations and a willingness to rely on Randy's expertise.
A masterful response.
Your customers want a response to both negative and positive reviews. The better you are at responding to customer reviews the more revenue your Yelp listing will generate for your business. Here are some comprehensive guides you can use to respond to customer reviews.
What about removal?
Is it possible to remove negative Yelp reviews? 
It depends.
How to get Yelp reviews removed
According to Yelp's help center, if you see an inappropriate review, you can report the review and ask Yelp moderators to remove it. If the review in question has violated Yelp's terms of service or review policies, there's a good chance they'll remove it.
Note: You'll need to claim your business page if you'd like to report a review from your account.
Here's how you do it.
Head over to

Biz.Yelp.com

and log in.
Locate the review in the reviews section of your account.

Find the More Options button (the three dots) and click Report Review:
What if that doesn't work?
You can always ask customers to remove or update their review. Here's how you do it.
Create a list of negative reviews.

Create a win-back offer for your customers. This offer should be irresistible and require zero financial investment on their part.

Respond to each of these customers (privately if possible) with a request. You want to make it up to them—no obligation on their part.

Share your win-back offer with them. Once customers take you back, go above and beyond. Go out of your way to win them back. Roll out the red carpet. This is crucial. If you don't pull out the stops, you may get

another

negative review. Now is the time to go big.

Finally, thank them for the chance to make things right. That's it. Don't ask for a review. Don't tell them to find you on Yelp. They know. Either they'll do it, or they won't.
Yelp says, "Business owners should also feel free to use their business accounts to
publicly or directly respond
to any inaccuracies in the review."
Yelp is still an online review powerhouse
As we've seen, Yelp is still a viable review platform you can use to grow your business year-over-year. In the right hands, Yelp can become a powerful weapon in your marketing arsenal reviews. 
Believe it or not, Yelpers are rooting for you. 
The vast majority of reviewers are hoping they'll be the one to find your business; they want to be the hero, the one who discovers a secret hotspot or diamond in the rough. A trusted provider they can recommend to all of their family and friends for years to come.