Reading Time:
3
minutes
Third party review sites have a huge impact on your dealership's ability to move cars. In fact, in most cases they're having more of an impact than your own website is.
If you want to sell, you've got to engage with them. Your listing on any given auto dealer review site can't just be a place for you to collect reviews. You must build strong profiles which serve as stand-alone enticements to do business with your dealership.
Here's what you need to know to do just that.
General Tips - All Automotive Industry Review Sites
Every site is a little different. Claiming your profile won't look the same on each one. Some will have lots of fields to fill out, others will have only a few.
But no matter what site you are on, the basic principles remain the same:
Check the accuracy of all information, and make sure the basics are identical across every profile.
Use every field you're given.
Write a compelling description of your business. If possible, this should not be exactly the same from profile to profile.
For the most part, following the general tips will take you far on GMB, but there are a couple of other things you should be vigilant about.
Google My Business is the number one way any customer finds anything. While it would be rare in this industry for a customer to start with a generic search like "car dealers, Houston," it's not unheard of.
Those who are brand loyal might start with "Toyota dealerships, Houston," instead.
Either way, you get just three chances to get in front of the average customer, which means your profile needs to be in tip-top shape.
Lots of Toyota dealerships in Houston, but these three currently get most of the attention.
Almost all these sites allow you to showcase your showroom inventory too. Keep those up to date on every site where this is the case.
Competing on Reviews - Think Thousands, Not Hundreds
In some industries, 50 reviews is a pretty good number. The average business is rocking along by the time they get over 100 reviews.
Car dealerships are crazy competitive. It's not hard to see why: just look at the clustered red dots above to see how many dealerships are nearly sitting on top of each other. Competing dealerships selling the same brand of car.
So you don't have the option to be leisurely about reviews, which is one of the most important Google My Business ranking signals determining whether you'll be in those top 3 local results when your next prospect starts looking.
Wasn't joking. Think thousands.
When a car dealership needs over 1,000 reviews to even begin to present any kind of a ranking threat to its biggest sources of competition, having an effective review generation strategy is not optional. The example above is a little extreme, but not by much: successful car dealerships typically have 1,000 to 2,000 GMB reviews on their profile.
Photos are always great of course, but in this case I want to call your attention to something specific. When you're setting up your GMB profile your most important photos are not the photos of the cars you've got on the lot. Sure, include them, but people know you have cars, and if they use any third party site, or your own site, they even know which cars.
No, the question you're trying to answer here is whether your showroom is a clean, comfortable place to be. Buying a car can take several hours. Customers want to know those hours will be spent with comfy furniture, WiFi, and snacks.
Okay, so you can't snap a photo of your WiFi, but at least we can see this looks like a pretty decent place to spend 3 hours of one's life.
Input your text here! The text element is intended for longform copy that could potentially include multiple paragraphs.
If Google owns the world from a generalist perspective, Cars.com gets to claim the specialist crown. It has 61% of the market share vis a vis where customers will go to begin, and often end, their search for the perfect car and the perfect car dealership.
Two things to keep in mind here.
If you only keep your inventory up-to-date on one site, this needs to be the one.
Really it's not smart to neglect your inventory on any site which allows it, but Cars.com offers extra incentive. For example, customers who really want a black 2018 Prius Prime can tell Cars.com that. And they'll receive email alerts when that specific car hits a local dealership's inventory.
This feature basically allows you to create your own laydowns. If you're the first dealer in town to get a customer's specific dream car then there's a great chance you'll sell that car. Fast.
To make the most of this feature, be sure to read the Cars.com literature on how to manage your inventory.
Don't Neglect the Service Center
Cars.com offers an entire page to devote to the service center, so be sure to use it. You can list all your services and prices. Customers can book an appointment directly from the site.
Cars.com even separates the service reviews from the sales reviews.
As you can see, this is a good spot to add information about your warranties.
If Cars.com is the heavyweight champion, DealerRater is that scrappy up-and-comer everyone's hearing about. It only gets 7% of the initial visits compared to Cars.com's 61%, but I still maintain it's an important place to spend some energy.
For one thing, every year DealerRater gives out Dealer of the Year and Consumer Satisfaction Awards. These awards are based on the number and quality of reviews scored on the website. They make for some nice bragging rights, little badges which basically say, "why yes, we do know how to treat people here."
But the awards aren't the only reason why you want to go ahead and pay attention to this site.
Sure, DealerRater may look like it is getting less traction than other sites, at least on paper. However, this could well be because it's devoted to dealers. Cars.com, KBB, and other sites are devoted both to the dealers and to the vehicles, which means some customers are going there first to research their dream car long before they're anywhere near considering whether to visit a showroom.
Meanwhile, a customer who goes straight to DealerRater is late in the buying process. They're about ready to do a deal. Calls you generate from this site are therefore pretty valuable on the whole.
Take advantage of the ability to use a "click here" graphic.
Speaking of shiny things, here's a nice feature. You don't have to settle for a boring little "visit the website" link on DealerRater.
Instead, you can add a pretty, bold, clickable graphic. And you should. Because it makes your profile look more epic.
Add all your employees so they can be reviewed individually.
One thing that isn't much fun on other sites is the way individual employees can drag everyone else down. Kyle, Linda, and George are all going out of their way to provide a great customer experience. Clay yawns his way through the day. On normal sites this means you more or less get 1 stinky review for every three glowing reviews, and it could take you months to figure out why.
Thanks a lot, Clay.
Or you could just upload every one of your employees to DealerRater so you can identify the slacker right away.
This is big. Because while every review gives you an opportunity to review your business, few give you an opportunity to look at trends over time. Thus, you can find your Clays and either coach them, or move them out the door. Either way, you get a stronger staff.
Amenities, amenities, amenities.
Remember, we want to use every chance we can get to help customers understand they're not going to be lost in a waiting room wasteland. DealerRater will help with that by giving you a lot of real estate to talk about all the great things your dealership has going for it.
Among other things, this dealership will feed you a pastry and let you bring your dog.
Don't waste the photos space on a logo like the above-referenced dealership did, though. This particular dealership missed some opportunities. Were I them, I'd have uploaded photos of:
The coffee, drinks, and cappuccino stations.
The pastry tray.
The customer lounge area.
The customer business center.
The service valet at work.
The interactive car display.
The electronics charging station.
Both stores.
Rule of thumb:
If you list an amenity you can take a picture of, take a photo of it and put it in this section.

Now we get to the old veteran in the ring.

Sure, the Kelley Blue Book used to be a literal book, not a website. But KBB.com's no fuddy-duddy. This site is more like that one hip grandpa who figured out how to use more features on his smartphone than his smart aleck grandkid did.
Take advantage of the languages listing.
KBB has embraced the global and multicultural nature of our economy by setting aside a special section to list out the languages spoken at the dealership. Having someone on staff who is multilingual is a huge selling point which could earn you a lot of business from people who do not speak English as their second language.
Haven't thought about it yet? Quiz your staff to see what languages they speak. The variety might surprise you. Don't forget about ASL, which is one of the languages you can list.
"Why you should buy from us," vs. "About us."
Almost every site has some sort of "About Us" section. KBB has chosen to phrase this a little differently.
Instead, you get a "Why you should buy from us" section. A refreshing change. Dig deep and really think about your answer here. Make it compelling. This is your chance to distinguish yourself from all the other dealers out there, so don't squander it.
Link up your social feed.
Another unique feature is the ability to link up your Twitter and Facebook feeds right to your profile. Your dealership is active on these sites, right?
Another unique feature is the ability to link up your Twitter and Facebook feeds right to your profile. Your dealership is active on these sites, right?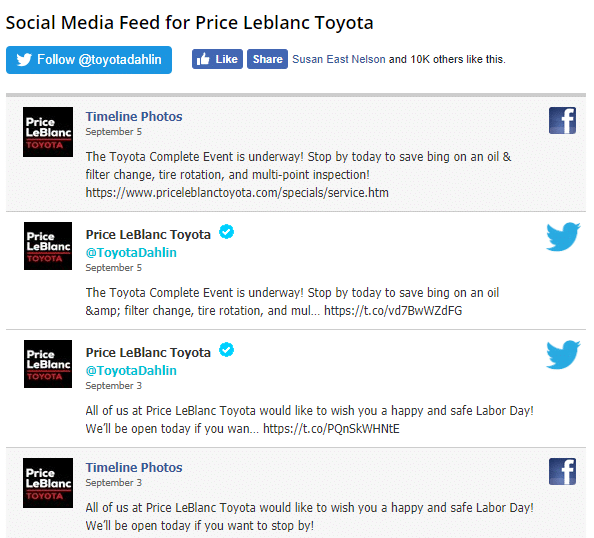 Using this feature helps you demonstrate you're a lively, customer-focused, accessible dealership who keeps web properties up-to-date. Will it make or break the decision to pay your location a visit? Maybe, maybe not. It is more impressive than finding a dealership who hasn't posted since 2015, though.
Take advantage of offers.
KBB gives you lots of space to create and showcase special offers. You'll want to use it.
Remember, price is the number one anxiety your customer is likely to have about the purchasing process. Posting offers helps to alleviate these fears while making your prospect feel like a smart, savvy shopper.
38% of millennials use social media to shop for cars. Not car sites, not Google. This is a statistic you want to pay attention to because millennials are the biggest buying population right now.
Fail to create a great Facebook page and you're leaving a lot of money on the table.
Post videos and have fun with it!
People research vehicles, not just dealerships. One way to make the process easier on them would be to make and post a video like the one below, which outlines all the features of one of the newer model cars on this dealership's lot.
Notice how the sales rep didn't take himself too seriously in the video. He was having fun. He was bright and engaging. He outlined every feature of the car in a low-key, low-pressure fashion. If you were already interested in that car it would be a simple matter to call him up and tell him you want to run the numbers for it. You wouldn't even necessarily have to leave home until it was time to start signing some paperwork.
And since Facebook is already set up to let you host and store all the videos you might create, it would simply be a shame not to post as many (high-quality) videos as you can.
Make events work for you.
Facebook's "events" tab is another great feature you could be taking advantage of. Post sales, charity events, parties, whatever. Anything that gives a prospect a reason to swing by should get listed right here.
Events aren't just all about sales. They can help you create person-to-person relationships and loyalty. Especially if you get a little bit creative and silly with them.
With automotive industry review sites, there's no such thing as set it and forget it.
People in some industries get the luxury of claiming their profiles, checking to make sure their information is accurate, uploading some photos, and walking away.
People in the auto industry don't.
When so many review sites rely on up-to-date inventory you're going to have to get in there to actively engage with your review sites on a regular basis. Deals will need to be swapped out and showcased. And you'll need to respond to all those thousands of reviews, as well.
So, in this industry, it's not just a matter of creating a picture-perfect listing. It's a matter of keeping one, and that means logging into yours at least once a month, if not more.
Take this as a bonus, multi-platform tip: these properties need to live, breathe, and grow just like your home website does. If you want to sell more cars, set a reminder, set aside time, get in there, and make it happen.