Reading Time:
6
minutes
Sometimes, law firm reviews are the only way potential clients can tell you apart, especially when they aren't being referred by a friend, family member, or trusted person.
Your prospective clients use online reviews to gauge your firm's expertise, performance and values. Most of your clients aren't attorneys themselves so there's no way for them to evaluate your work properly.
They don't know what they don't know.
Which is why so many clients focus their attention on online reviews. It's a trustworthy, straightforward, and reliable metric that they can use to vet a prospective law firm.
What makes online reviews so important to law firms?
Gyi Tsakalakis, founder of AttorneySync, explains:
"Regardless of how they get a lawyer's name, legal services consumers expect to find information about the lawyer's knowledge, skill, experience, and reputation with clients. In many instances, a lawyer's online reviews are the potential client's first impression of the lawyer."
A study found 83% of prospective clients use online reviews as the very first step in their attorney selection process. A white paper from Martindale-Hubbell states 95% of clients use reviews to determine which attorney to hire. Data from the Pew Research Center confirms these findings. Fully 82% of adults say they read reviews before making a purchase decision.
These stats aren't new.
But they do convey an important point about the indispensable nature of online reviews.
The Johari window.
Known/knowns: Things you know that you know
Known/unknowns: Things you know you don't know
Unknown/knowns: Things you think you know but actually don't know
Unknown/unknowns: Things you don't know that you don't know
A strong review profile provides answers in each of these four categories. Your clients gain a detailed understanding of what it's actually like to work with your law firm. This minimizes the amount of resisting, haggling and complaining a new or prospective client throws your way.
Client retention and the current state of reviews in the legal industry
The current state of reviews in the legal industry isn't all that conducive to fostering positive attorney/client relationships.
"Unfortunately, [the industry's] a mess. First, spam, fake reviews, and improper reviews (i.e. bought, quid pro quo review circles, etc) make many online reviews completely unreliable. Second, to make matters worse, many lawyers haven't made client experience a priority. Therefore, of the negative reviews that are authentic, many are deserved."
Attorneys and clients aren't on the same page.
A recent report by LexisNexis titled Age of the Client pointed out the conflict. When it comes to client service, attorneys and clients don't have the same experience.
80% of attorneys believe they're providing an 'above average' service to their clients
40% of clients, on the other hand, feel they've received 'above average' service from their law firm or the attorneys handling their matter
Yikes.
This report calls it a wake-up call for the legal profession, a chilling reminder that attorneys and law firms may be out of touch with their clients' expectations. This is a disaster in the making for many law firms, here's why.
They're going to ask for reviews.
Many of these attorneys feel they've under-promised and over-delivered, that they've knocked it out of the park for their clients. Their clients don't feel the same and they're not willing to volunteer the information. Until you ask for a review. When you do, these clients are more likely to give you a lackluster review.
Three stars or less.
The kind of review that fails to attract (or repels) new clients. Most attorneys today have online reviews. What most attorneys don't have is a strong and balanced review profile. In fact, most attorneys have the opposite. A poor and imbalanced review profile.
No reviews: A quick scan of specialty review sites like Avvo, Martindale-Hubbell and Lawyer.com shows lots of law firms listed with zero reviews.
Too many negative reviews: Law firms with strong visibility (via prominent advertising) are often lightning rods for negative reviews. These negative reviews drive up ad/marketing costs, decreasing your firm's return on ad spend (ROAS).
Not enough positive reviews: Some firms have reviews but they don't have enough to sway new/prospective clients to their side. As a result, these firms struggle more in the beginning as they work to establish a strong, balanced and trustworthy review profile.
Imbalanced reviews: This law firm has a top-heavy review profile (e.g. lots of reviews on Avvo, zero reviews on Google, Lawyers.com or Martindale-Hubbell). These law firms lose a significant amount of business from prospective clients because they're not visible. As far as clients searching in Google are concerned, their law firm is invisible.
Poor reviews from the wrong customer: These clients aren't a fit for your law firm. They're difficult to work with, focused on handling and are unwilling to trust in your expertise. They can be needy, controlling, stubborn and unreliable. They're difficult to serve and harder to keep. When these problematic clients review your law firm they repel ideal clients, the kind of clients you'd fight to keep.
If you'd like to attract and retain your clients, you'll need to understand where and how they search for your law firm. Where do clients begin their search?
"Google, mostly. However, there has been a significant increase in business searches on social networks. Specifically, with respect to lawyers, many consumers are turning to private Facebook groups for recommendations."
~ Gyi Tsakalakis
What specifically does this mean for your law firm? If you're looking to attract new clients and improve client retention how do you act on this information?
Simple.
Your firm needs to be everywhere.
More importantly, your firm should provide value everywhere you go. If your prospective clients spend time on a particular platform, venue or social network, you need to be there. You should be engaging with clients in a way that makes sense for you and for them.
If you're a real estate attorney this could mean:
Sharing valuable updates on Facebook, Twitter and LinkedIn
Contributing highly valuable content/feedback on Reddit in the r/realestateinvesting and r/RealEstate sub-reddits
Posting educational videos on YouTube or LBRY
Using this review management checklist to create/claim, complete and optimize all of your review profiles
Performing a comprehensive review audit to assess the performance of your review portfolio (overall)
How do clients search for a law firm? Prospective clients use a variety of searches to identify potential law firms under consideration. If they're searching in Google they may see search results that look like this: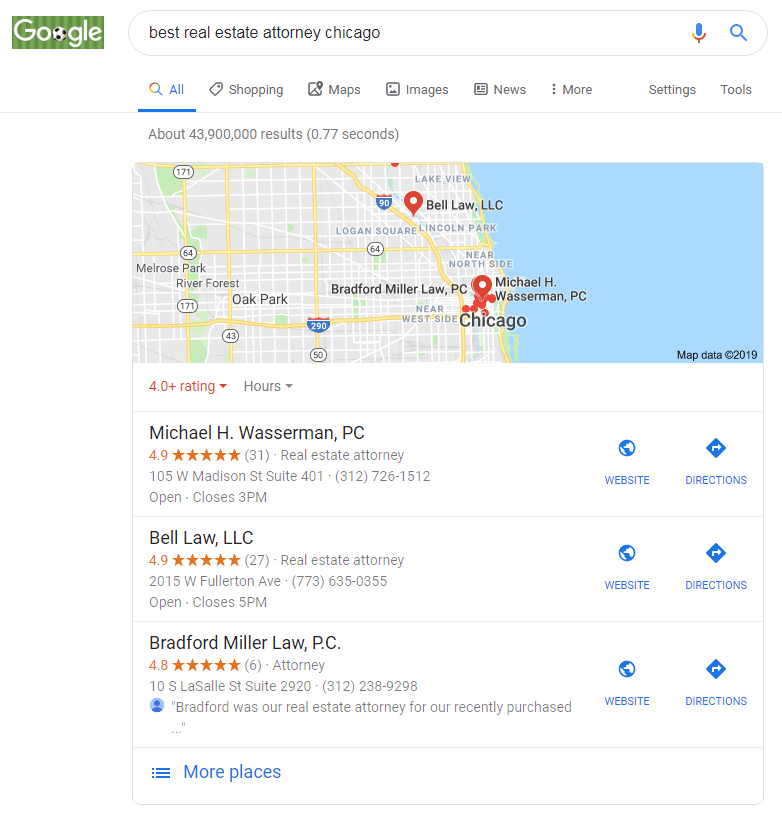 Prospective clients will also use industry specific review platforms to search for law firms in their target area. Here are a few results from Avvo.
Keyword data determines which review profiles are visible in Google's search results. When I run the query "best real estate attorney" through Keyword Tool.io, we get a closer look at the types of keywords clients use.
Take a look:
Best real estate attorney
Best real estate attorney reviews
Best real estate attorney near me
Best real estate attorney Yelp
Best real estate attorney Chicago
Real estate attorney
Real estate attorney reviews
Real estate attorney Chicago
Real estate attorneys near me
Real estate attorney duties
Real estate attorney eviction
Real estate attorney foreclosure
If we break this down a bit, we begin to see a pattern.
[adjective] keyword phrase [city]
[adjective] keyword phrase [state]
[adjective] keyword phrase [review site]
keyword phrase [city]
keyword phrase [state]
keyword phrase [near me]
keyword phrase [review site]
These are navigational keywords. The types of keywords prospects use when they're narrowing their options down and/or preparing to buy. What do transactional queries look like?
Rich Russett and Rommel reviews
Rich Russett and Rommel peer reviews
Reviews of Rich Russett and Rommel
Abraham and Baumgart reviews Yelp
Abraham and Baumgart client reviews
Reviews of Abraham and Baumgart
See the difference?
Transactional clients know who and what they're looking for. They're evaluating a specific candidate (you) and they're looking for client feedback.
These keywords are the key.
That's why it's important for you to build a significant amount of informational, navigational and transactional keyword queries into your review management campaign. You'll want to make sure that you're creating content for keyword queries in each stage.
Why?
1. Your content "trains" prospective clients, aligning their desires, goals and expectations with reality.
2. Being everywhere increases your earned, reputed and presumed credibility.
3. You're able to optimize your review profiles, increasing the likelihood that your law firm will be visible in Google's search results for the keywords you've selected.
4. Being everywhere means your review portfolio is present whenever clients search for a law firm with your desired skills.
It's a simple way to overcome the legal industry's reputation with clients.
What reputation?
"For many people, the legal profession is an opaque, scary, and expensive place."
~ Gyi Tsakalakis
When it comes to hiring an attorney, clients are nervous, intimidated, and afraid. Often times the attorney they choose has a significant impact on their future and stability. Your clients are looking for a specific set of information.
Clients will comb through your reviews, searching for the items listed in the image above. This means it's a good idea to ask your clients a few questions when requesting reviews (more on that in a bit). What happens if you do this?
Do law firm reviews give you some sort of competitive advantage?
"[Reviews] are a massive competitive advantage. Positive online reviews attract the attention of legal services consumers throughout their hiring journey."
~ Gyi Tsakalakis
Think about it.
You're a real estate attorney located in Chicago. A prospective client searches for "best real estate attorneys near me." While they're combing through Google's search results they see you have five star aggregate reviews on Google, Facebook, Yelp, Avvo, Lawyers.com, Martindale-Hubbell and every other review platform.
You're everywhere.
There are articles about you. Forum posts written by you. A spread in the news about your client's recent victory in court. Keyword rich, YouTube videos, education and testimonials, singing your praises. 2,500 reviews across your review sites.
Your competitors have 16 reviews, some of them sketchy.
Is it really a contest?
See what I mean? Not only have your positive reviews significantly boosted credibility, they've also increased brand trust and brand recognition.
You've ruined these prospects...
For each and every one of your competitors. This is your goal - to dominate your practice areas wherever and whenever you can.
Danger: Outstanding, five-star reviews may present a problem
What's so dangerous about online reviews? Your law firm faces two significant barriers.
1. Privacy concerns. Your clients may not want to admit or disclose the fact that they needed your help. Take this review for example: "I was scared to death when I was charged with several serious felony counts and since I had never been in trouble in my life, I didn't know where to turn." Would you publicly sign your name to that? You'll need to show caution, restraint and regard for your client's privacy.
2. Ethics challenges. The ABA's Model Rules and ethical rules concerning lawyer advertising covers online reviews as well. Your reviews should avoid false, misleading or non-verifiable statements. This means you'll also need to clarify reviewer comments. (i.e. this attorney will win your case, guaranteed.) ensuring that you're accounting for the legalities. See The Rules of Sharing Reviews in the Legal Industry for a detailed breakdown.
You'll need to account for these issues when requesting reviews from clients.
"First, law firms should find ways to improve client experience. Second, timing and context are everything. Requesting a review should never harm client relationships. Once you are delivering exceptional client experiences, create processes that identify promoters and make it easy for them to sing your praises online."
~ Gyi Tsakalakis
Ethics rules dictate how attorneys request reviews and how those reviews are managed. As far as the legal industry is concerned, it's a good idea to keep your requests simple, clear and direct. If your request can be construed as misleading or non-verifiable you'll want to tweak things a bit.
Here are two templates you can use to request reviews.
Subject: [Client Name], would you tell them what you think?
Hi [Client Name],
I'm so happy we were able to resolve your legal matter. We hope that you're satisfied with the results and have exceeded your expectations.
Would you be willing to take a minute and share your experience on [review site]?
Here's a link to make it as easy as possible:
[
Review Funnel Link
]
It helps us, but it also helps future clients.
Thanks again,
[
Signature
]
See what I did there? No misleading or non-verifiable statements of any kind. Nothing inappropriate or out of the ordinary. Short, simple and to the point. Here's another one.
Subject: [Client Name], we need your help.
Hi [Client Name],
I wanted to thank you for allowing us to help you with your legal matter. We're happy that you're satisfied with the outcome.
Would you be willing to write a review, sharing your experience with future customers? It would mean the world to us.
Here's a direct link to leave a review on the site most convenient for you:
[
Review Funnel Link
]
Thank you so much for your help,
[
Signature
]
You can also add a "Find us on Yelp" link to your signature. Swap out the links in your signature as time allows. Use your review profiles to attract more clients.
At this point, you'll also need three additional elements to round out your review management campaign:
1. A review funnel via SaaS software like Grade.us
2. A follow-up system (an autoresponder system that sends email, text and direct mail messages)
3. Your follow-up templates (see above)
4. A first responder/manager (to manage your reviews)
The first three items make sense.
What about the last one? Who should be in charge of the reviews that come in?
"Who should be in charge of the reviews? - Ideally, the lawyer who provided the service. More generally, everyone at the firm should take accountability for maximizing client experiences."
~ Gyi Tsakalakis
That depends on the structure of your law firm, but as a general rule, your first responder should know the law. This person should have a firm grasp of the legalities involved.
This could be:
You'll also want to ensure that your first responder/review manager has a calm and cool demeanor. Verify they won't share sensitive or private information. Or, that they won't offer misleading or non-verifiable information. And, that they'll respond to clients with empathy and warmth.
If you're building, managing and monitoring your review profiles you'll want to start with:
Follow the 80/20 rule. Spend 80% of your time earning reviews for larger platforms (e.g. Google, Facebook, Yelp, Avvo, Martindale, Lawyers.com, etc.).
Spend 20% of your time on smaller review sites. You can increase the amount of time spent on smaller sites as your review platform grows.
What's the easiest way to retain clients and grow your law firm?
It's marketing your reviews.
Sharing your online reviews extends the power, leverage and life of each review. Here are a few simple and straightforward ways to promote your reviews.
Here are a few additional tactics you can use to promote your law firm; our ultimate review management checklist and a straightforward way to audit your review management campaigns.
Use these strategies and tactics to triple your five-star review ratings in less time and effort. But make no mistake, effort is required.
"In my experience, too many firms focus on the systems and processes around "gaming reviews." Instead, lawyers ought to focus on ways they can improve client experiences. Also, lawyers must remember that their ethical obligations apply equally online as they do offline, including when asking for, posting, and responding to reviews."
~ Gyi Tsakalakis
The secret to client retention: Amazing experiences, amazing law firm reviews
Your clients can't tell you and your competitors apart.
Reviews tip the scales in your favor. Your prospective clients use online reviews to gauge your firm's expertise, performance and values. Most of your clients aren't attorneys themselves so there's no way for them to evaluate your work properly.
They don't know what they don't know.
Reviews are a trustworthy, straightforward and reliable metric they can use to vet a prospective law firm. A strong review profile provides answers in four essential categories. These categories give prospective clients an insider's view inside your law firm.
Your online reviews are the secret weapon.
The force-multiplier your law firm needs to attract, win and retain top-shelf clients. With a strong review portfolio and a clear plan to follow, you'll find your reviews will boost leads and revenue, providing you with all the clients you can handle.